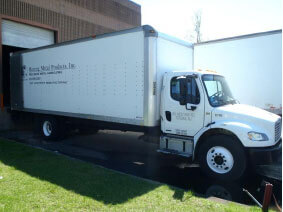 Moreng Metal Products offers a variety of different options for shipping to our customer's facilities both locally & regionally.  Utilizing our own fleet of trucks & reputable carriers, we ensure products are packaged properly, delivered on-time & in the most cost-effective ways.
Delivery by Moreng Metal Truck
Via Moreng Metal Products Truck provides shipping through the Tri-state area & the surrounding areas from our facility in Totowa, New Jersey.
Delivery by Common Carrier
Moreng Metal Products works with our customers preferred carriers to ensure an effective & on-time shipment in case our trucks cannot reach you. Moreng Metal Products can also advise on the most cost effective & reputable regional & national carrier services that we have built relationships with throughout many decades in business.
Other Options/Expertise Available
• Shipping International/Overseas
• Inventory Management through Kanbans
• Shipments to End Users
• Packaging suggestions