---
About Us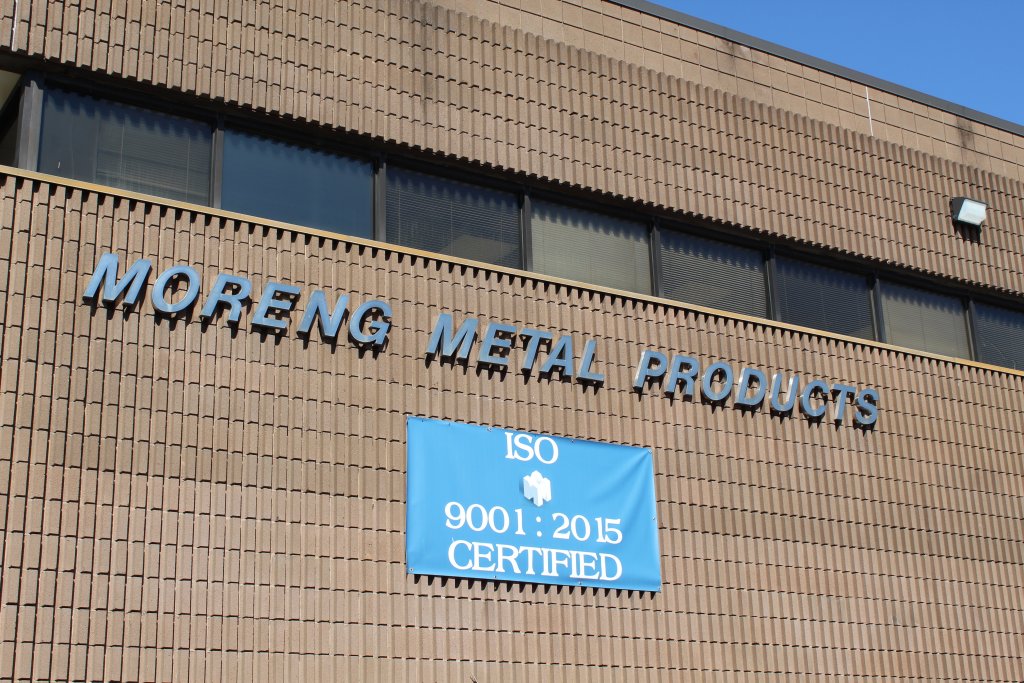 A fourth-generation, family-owned business, Moreng Metal Products has been around for well over a century. Our customers feel confident in choosing Moreng Metal Products, an ISO 9001:2015 certified company, for their precision sheet-metal fabrication needs because we're staunchly committed to delivering outstanding results. We offer comprehensive, end-to-end manufacturing services, leveraging an extensive range of advanced manufacturing capabilities to produce large quantities of components as well as highly specialized custom products. We perform our work with speed and precision and deliver products of exceptional quality, while at the same time, acting as stewards of the environment and contributing to our community.
Manufacturing That Benefits the World
We manufacture products and components for some of the most talented, forward-thinking organizations in the world—organizations that are pushing the boundaries of what's possible while remaining committed to enriching our communities, solving tough problems, and enhancing people's lives. At Moreng Metal Products, we feel privileged to play a role in making these achievements possible.
In particular, we take tremendous pride in the role we played in constructing the Freedom Tower by manufacturing many of the elevator entrances for what is now the tallest building in the United States. We're deeply honored to have contributed to this tangible symbol of our country's indomitable spirit and enduring freedom.
Sustainability
We have worked hard to reduce our own impact on the environment by installing a solar-photovoltaic system on our roof, which powers our entire 60,000 sq. ft. facility. To reduce the amount of electricity we need, we also installed long-lasting, eco-friendly LED lighting throughout our entire building, both on the shop floor and in the front office.
Community Support
We take great pride in giving back to our community. For example, in an effort to promote the importance of STEM (science, technology, engineering, and math) education, every year we offer a scholarship to the Ridgefield High School student who displays an ongoing commitment to excellence in engineering and the sciences. We hope to one day have the opportunity to hire these young men and women, who represent the next generation of Moreng Metal Products.
Comprehensive Assembly Services
As an end-to-end manufacturer, we're committed to simplifying our customers' purchasing experience by providing you with a comprehensive range of production services. By designing, fabricating, finishing, and assembling your products in-house, you benefit from shortened lead times, improved quality, and reduced costs.
Mechanical Assembly: Our highly experienced assembly technicians work hand-in-hand with our design team to ensure your custom-fabricated parts are assembled exactly as specified. Utilizing fasteners, rivets, welds, and other joinery techniques, we draw on decades of metal fabricating experience to build your subassemblies, chassis, and enclosures.
Electromechanical Assembly: Once your components have been mechanically assembled, we also offer electromechanical integration. Our pros have extensive experience wiring fans, motors, cables, power supplies, and circuit boards to your assembled metal components, then conducting comprehensive safety, functionality, and performance testing.
Box Builds: To bring your innovative products to market faster while ensuring exceptional quality, we can manage the entire assembly process to produce fully tested and inspected box builds.
Once your components and products are built to order, we offer a variety of shipping and supply-chain management services to help you reduce costs and take delivery quickly. Contact us today to learn more about our assembly services.